1964. Michigan, USA University of Michigan
Claustrophobic spaces known as 'cubicles' are starting to be set up in offices across the region; it will soon become a fever that will spread all over the world.
This is an office model that was born to give workers' autonomy, but nothing was further from the truth. This claustrophobic idea that conflates being productive with 'being locked for hours without external influence' is very frustrating for workers.
Soon, despite its enthusiastic adoption by large corporations, it will be proven to be highly inefficient: Man is a social animal by nature – also at work.
Madrid, Spain. In a ordinary ministry
When I was little, every once in a while my mother used to take me with her
to work during the holiday season. I remember people working in small offices
that could hold 4 to 6 people.
This had its advantages: People who had the same job shared the same space. Its main drawback: an excessive departmentalization, which led to separate work units disconnected from the rest of the company.
Meanwhile, in an office next door there was something that was going to
change the world and my life ever after: There I saw a computer for the first
time. Back then they were kept hidden away because no-one knew exactly what to
do with them… We were still unaware of the coming revolution.
2006 Boadilla del Monte, Spain. A nondescript office
During my first job I saw the famous 'prairies'. Open spaces had been all the rage for a few years now – but they were not something new. They appeared in some classic movies such as The Apartment (1960) because they were commonplace before cubicles were introduced.
Back then, the purpose of open floor plans was to control workers and optimize the use of costly space.
In the new millennium, the goal was to achieve information transparency and improve communication within companies. However, presenteeism was excessively encouraged, which, it turns out, lowers productivity: a fly at the other side of the prairie was enough to distract people.
2019 Pozuelo de Alarcón, Spain. Paradigma Digital
When I think about my working life I realize that I have always been interested in workspaces. On this same blog I already went into the current state of workspaces in detail, but going beyond that… Where are we going? How will we work in the future? Let us let our imagination fly.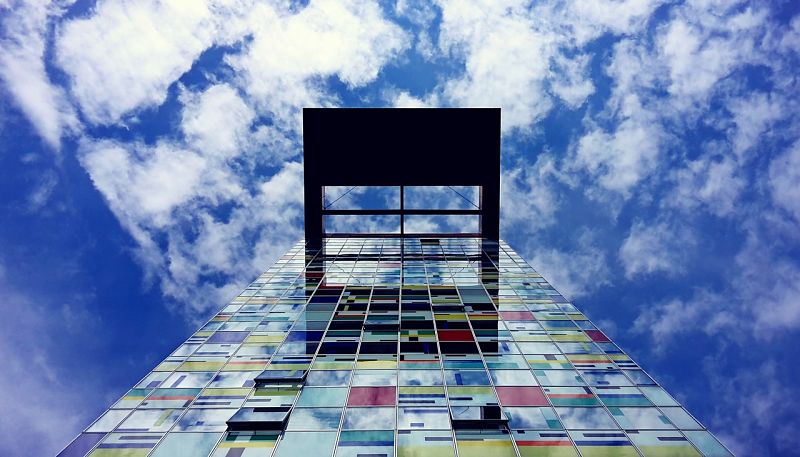 2030 Unknown location
Telecommuting has not become the norm. In the past, companies tended to prefer workers 'more outside than inside' in order to be able to lower their office-related costs. However, in the last few years companies have started to realize that for tasks where teamwork is essential the ideal environment is a shared space were all team members are located close to each other.
Of course, telecommuting and working time flexibility are here to stay (also, thanks to our governments' pollution prevention and work-life balance measures), but office work has not been eliminated altogether: The power of teamwork is the most important thing! Human interactions are highly beneficial!
In fact, offices are being redesigned to become true factories of ideas.
Human beings are very good at creating and ideating things together, and
precisely this is what is being promoted.
The offices of the future will be customizable to an unbelievable degree: Having tables on wheels (why have wheels only on chairs?); using movable panels to easily build team compartments; making rooms out any free space using multifunctional furniture; making all walls collaborative… Offices are like Gruyère cheeses where people can find their niche.
In a world dominated by collaborative apps, why not have companies whose
employees flock to the coworking space that is nearest their homes? This trend
is all the rage now; the flexibility companies are allowing its employees is
quite helpful in this regard.
Did we not use to think touchscreen phones were revolutionary? Touchscreens
are now bigger and built into the furniture, walls and so on. Not only that:
Gesture controls are finally here, so now you can update a panel displaying a
workflow on a board-like giant wall without touching it.
The Internet of Things is part of our job just as data science and artificial intelligence are at the service of workers: "Would you like some fruit? Hurry up, they are only a few left!" our smartphone tells us. And WhatsApp has been reinvented to reach everybody: "Go to the first floor, north sector; your team mates will meet there today".
Siri, Alexa, Cortana and OK Google work together to take the boring minutes
of that meeting for us with based on what they have listened to and rack their
chips to fit meeting agendas in those hours of the week when we are all free.
Ah! And our building checks our wearables to regulate the temperature in
the area according to our coworkers' body temperature: Say goodbye to that
colleague who is always hot…
Something new is coming our way… At last, holograms like those in the Star
Wars films are starting to let us work from our living rooms as if we were
actually at the office… This could really be a true improvement!
Nevertheless, the thing that has been crucial over the past few years has
been the revolutionary changes in the transportation sector:
Home2work
carsharing, the #1 trend these days for going to work sharing the same car.
Parking
buildings for e-vehicles in places where there is a high density of office
buildings.
New modes of
collective transport on conventional roads, driven by sustainable energies and
fast since they are not held up by traffic. Tram 3.0!
Self-driving
vehicles, which we are now starting to see on our roads.
All this has made going to work every day a breeze and even made it
possible to start working the moment we step out of our home with the new free
public WiFi hotspots.
2019 Back to Paradigma Digital in Pozuelo de Alarcón
It is great to dream! But is it only a dream? At Paradigma we never cease reinventing ourselves, so if this is possible, we will surely be pioneers ;)
Comments are moderated and will only be visible if they add to the discussion in a constructive way. If you disagree with a point, please, be polite.
Subscribe