What company which has some of its business online does not want to get more traffic? No matter its industry, size, turnover… the answer will always be yes. And if the traffic is quality traffic, so much the better.
Google Analytics provides us with a huge amount of data that we can use to increase our organic traffic and improve our ranking in search engines.
However, we must keep in mind that we cannot obtain results overnight. The process of attracting more traffic is going to take time – but the wait will make the results worthwhile.
With the huge amount of information provided by Google Analytics, knowing how to 'manoeuvre' through its complex platform and go beyond its basic reports between metrics and settings is essential to finding success.
In this guide we will describe each of Google Analytics' perspectives and how you can implement them right away on your website to increase its search visibility.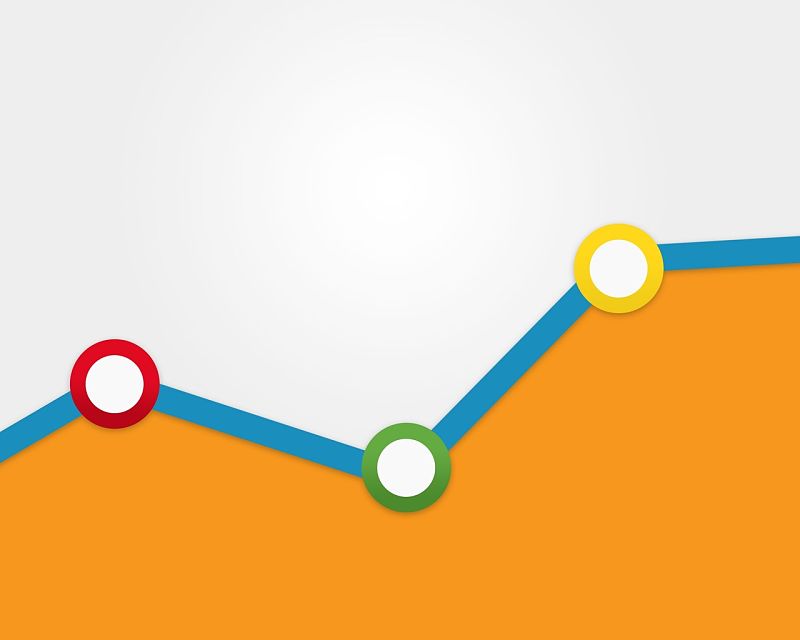 1 Take advantage of Google Analytics' email notifications and alerts
Email reports are the easiest way of spending less time riffling through data. The question is: How can a Google Analytics email report be configured?
The following is an example of an email alert I received from Google Analytics on the 26th of December: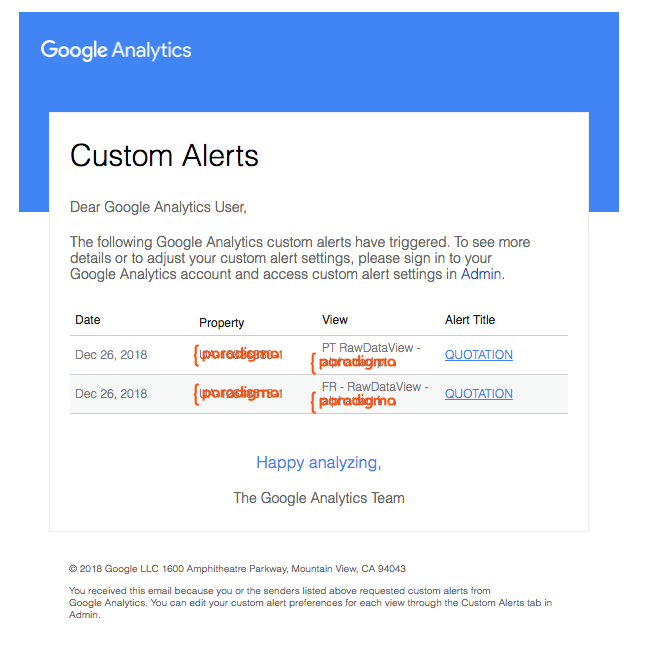 This simple trick will save us a lot of time. Google Analytics generates too much information, so the key is to know how to obtain the data that interest us. And if we can get it in our mailbox, the better.
There is no question that one of the challenges for companies is extracting useful data, and Google Analytics is a good tool for doing this.
My first experience with Google Analytics was very unpleasant: I logged into my account and sat there for hours, not knowing what to do, how to obtain data, and how to interpret even the data on the panel.
To configure custom alerts, sign into your account and click on Admin: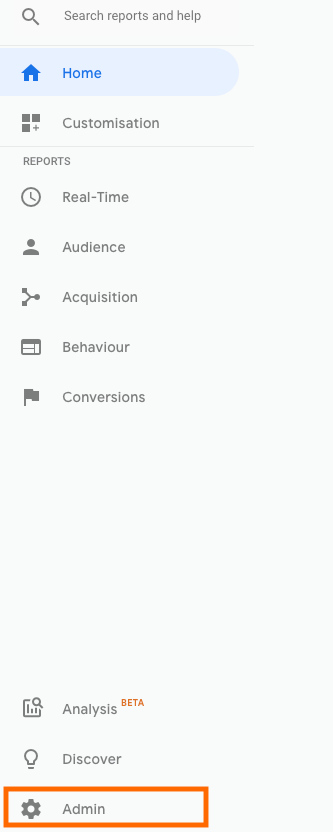 Next, you will see the "Custom alerts" tab: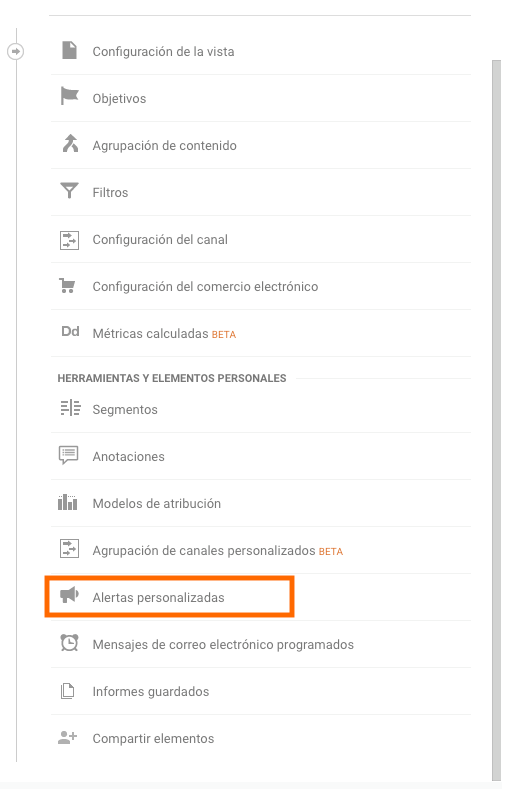 You can easily configure custom alerts to receive updates by email and SMS notifications every time an event takes place (or any action you consider relevant to your website).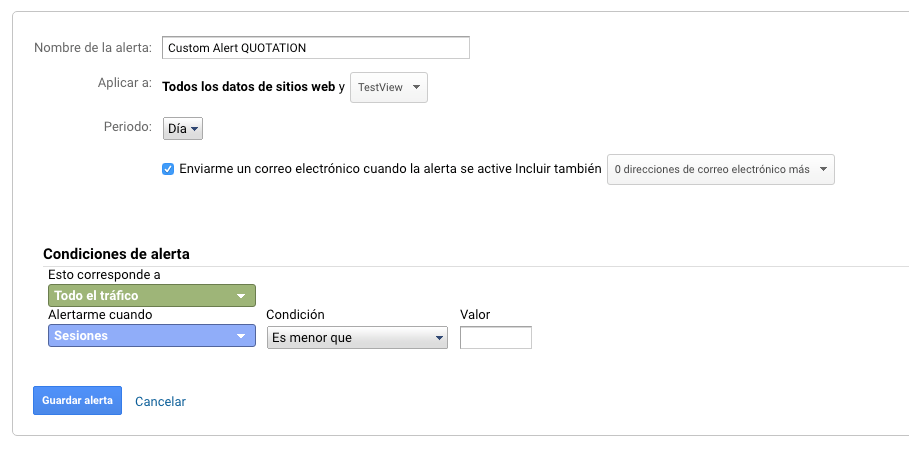 When we use the "Alert conditions," it is easy to customize specific scenarios to receive alerts by email. For example, if your website experiences a rise or drop in traffic or if a specific goal has been reached in the past few days.
Regardless of the notifications you want, you can configure any and all of them, and Google Analytics will email them to you.
You can create all the alerts you want to monitor (daily, weekly…) unique pageviews, pageviews, bounce rate, demographic data, etc.
2 Optimize and improve paths by means of your website
In theory, your homepage is your website's key place and from which its internal pages are linked. Therefore, you must pay a lot of attention to its design and the experience it provides users.
When it comes to redesigning our website, we must make sure we have clearly laid out the design. This is important because it is going to determine how the entire website will be displayed and will run as a whole.
But Google Analytics tells us something completely different. When you check your pages or the most popular landing pages, you will see that, in most cases, there will be pages that get more traffic than the homepage.
This happens despite the size of your website. If you have an appended blog and you update it frequently, you will see that approximately 30% of incoming traffic comes from the homepage and the rest from your blog's pages (thanks to long-tail keywords), which are the ones that generate traffic and conversation in search queries.
Access the interface and follow the steps below:
Behaviour > Behaviour Flow report: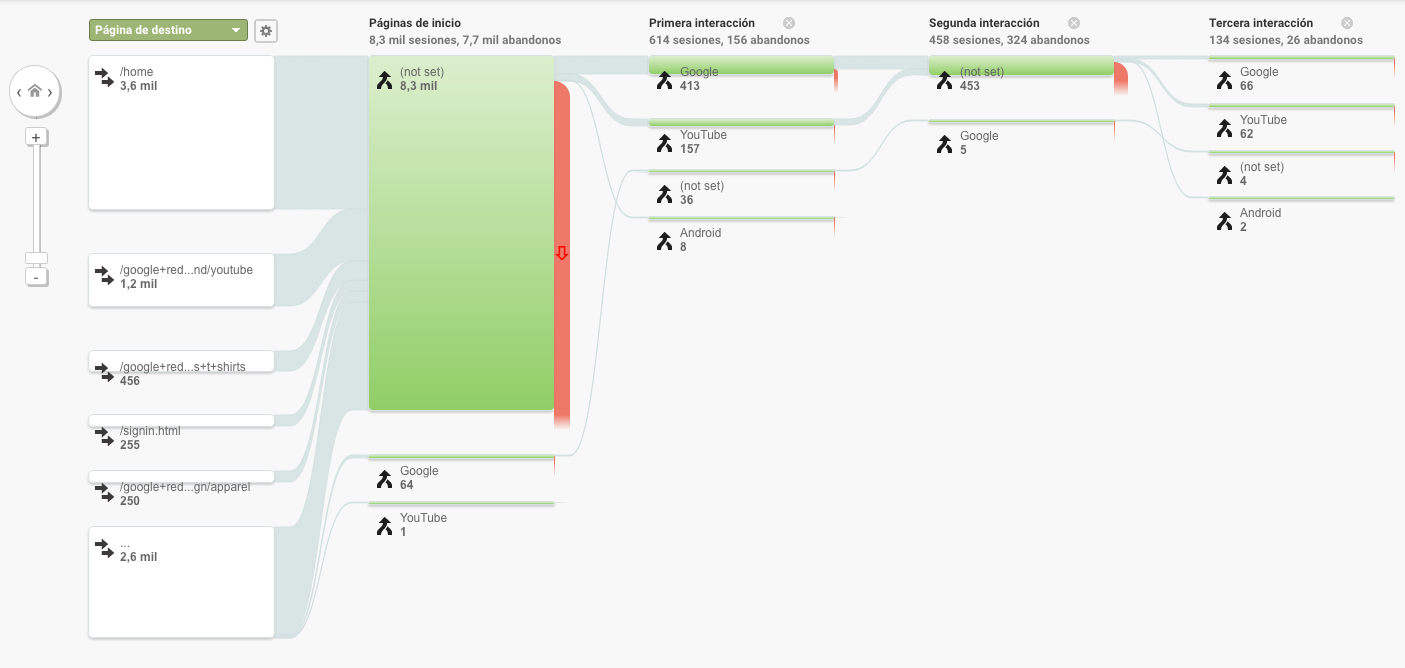 Behaviour > Site contents > All pages:
Click on the "Browsing summary" tab on the Google Analytics panel. There you will be able to see where traffic comes from and which pages your users viewed.

The panel on the left is the path of the previous page and the one on the right is the path of the next pages. Keep in mind that this is filtered by landing page, although we could also filter it by page grouping (brands, top categories, genre, authors…) – after configuring this in the main view.
How people move through your site
Finally, and not less importantly, you can see the pages visitors go to after they interact with your website's homepage.
With this information we can (and must) improve our visitors' browsing experience, making calls to action clearer and more intuitive and attractive.
Now that we know the route these users have taken through our website, we can do some things that will help us to generate leads in the most viewed pages. For instance, to include sign-up forms.
If we disregard this information, we will stop paying attention to leads and waste organic quality traffic that can give us a lot of advantages.
"Companies that take a structured approach to optimizing conversion are twice as likely to experience a big increase in sales."
3 Make use of 'low ratio' pages to improve organic search performance
Do you know the search terms that are currently sending you traffic? You can go deeper into this with a 'Query report' from your Google Analytics account.
To this effect, we should have the Google Search Console account linked and verified so as to be able to check our site's performance measurements and see reports on direct search queries on our Google search engine.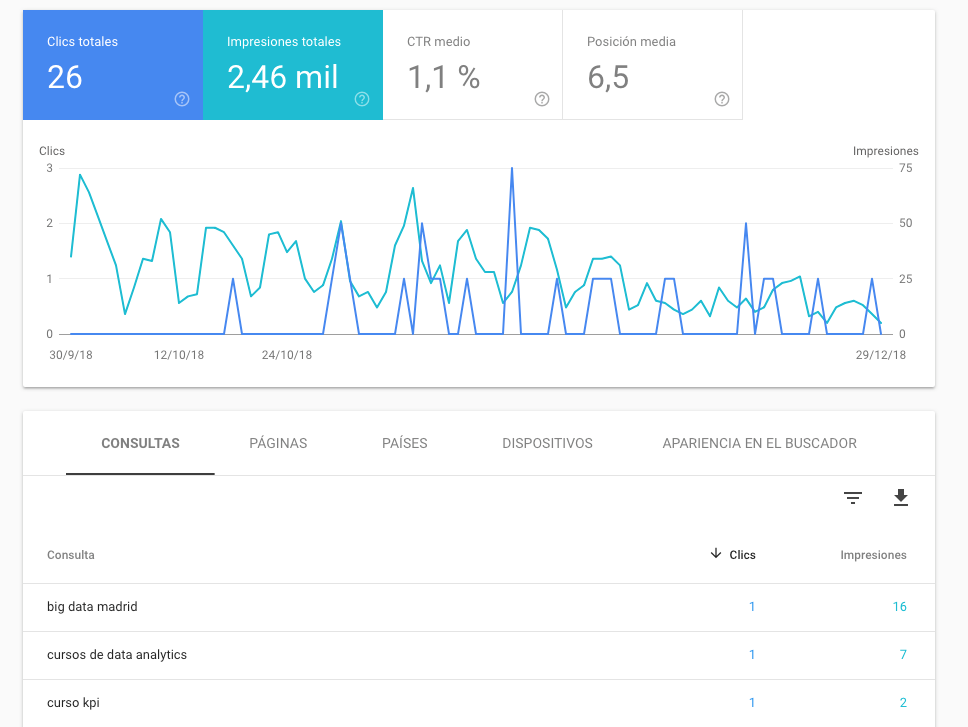 Once the Search Console account has been linked to our Google Analytics account, we will enable the report herein indicated from:
Acquisition > Search Console > Landing pages or Queries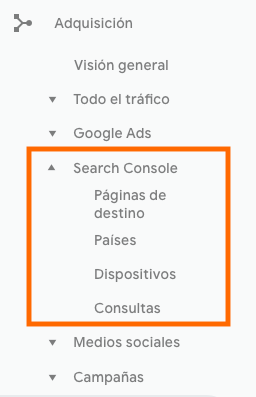 If you have configured alerts correctly, you can receive in you mailbox the information you have selected. However, to obtain low performing queries, you will have to do this manually.
Google stopped sending reference data to website owners on privacy grounds. If you get a "Not provided" message, that is the reason why.
Nevertheless, Google Ads advertisers can see this data on their panel.
On the other hand, 'hidden' pages will rarely be shown. Some studies claim that 75% of Google users do not bother clicking beyond the first results page.

If you would like to optimize those pages in your site that do not work, here are some tips to help you do it:
Step 1: Once you find you search queries and your average positions, it is time to optimize them to obtain better rankings and find traffic.
Step 2: Sort the data of your search query to display those results with an average position above 10.
Note: Since there are 10 results in the first SERP, this means that the 11th position is the search engine's first result on the second page, a good page for finding search queries that can be sent to the first page.
"The best place to hide a corpse in search engines is from the second page onward…"
Step 3: Gather all the results that are currently on the second page. Take note of those 'low performing search terms' (usually, with opportunities of long-tail keywords) that can create attractive, richer content to make fast SEO gains.
These are some of the ways you can improve these pages:
Shorten the website's loading time: Google takes website speeds very seriously. And users will not wait for a website to load. A 1s delay in a website's loading time results in 11% fewer visits and a 7% loss of website conversions.
Add more words and value to the website: if your low performing pages are less than 2,000 words long, add a few more words that add value. Thus, you will be able to improve your search ranking and increase traffic.
Responsive website: If you think all of your website's visitors arrive from desktop devices, you are wrong. Google Analytics will allow you to see the traffic from mobile channels (use the advanced segments, or just the "Device Report").
Therefore, making your website mobile and responsive is crucial since this can boost your ranking and traffic.
Google made this decision because mobile device users expect websites and their pages to be optimized for their devices. Around 48% of consumers say they would never return to a website if it fails to load properly in their mobile device.
Add more data, pictures, videos and interactive elements: Google source data, reliable sites, research platforms, educational institutions, and industry experts. Add as much data as will make people trust your content more.
In order to increase the actual and perceived value of your content, add interactive elements (eg calculators, a traffic estimator, a conversion tool), and do not forget to create custom images (eg computer graphics, graphs, charts, illustrations) for your publication.
Properly format the content: It does not matter how useful your content is. Its format is very important. Keep the following in mind:
The heading: Make it irresistible.
Write short, direct sentences.
Each paragraph should be 2 to 4 lines in length at the most. A single line paragraph could even do the job.
Use bullets and subheadings to divide large chunks of information.
Make the content practical (if possible, turn into a step-by-step guide).
4 Repair the 'leaks' in your main search pages
A few months ago, whilst auditing a website, I saw that one of the pages that most traffic sent to the site was actually a leaking page.
In other words, although the page was attracting a lot of unique pageviews, I did not see any conversions in terms of email subscriptions, phone calls, email contacts, product sales, an increase in revenue or a better awareness of the brand.
Your main search pages might have leaks. If so, you could miss opportunities for increasing search traffic, getting leads and making sales on the table.
Achieving more than one goal with a landing page is a technique that hardly ever works. You can not expect a certain blog post to get you subscribers, create your brand and encourage people to buy your product. Things do not work this way. Set your goal and point the content in that direction.
Google Analytics will probably show you the most popular pages, but if this is not the case, click on:
Behaviour > Site contents > All pages
Click on the 'Unique Pageviews" tab in order for the most popular pages to be displayed at the top. Identify those pages that have a high bounce rate (a rate above 70% can be a clear indicator).

But why do visitors exit our website? A lot of times, users do not find what they want and leave, thus resulting in a high bounce rate. To prevent this, we must optimize our pages. Here are some suggestions:
Use qualitative tools such as Crazy Egg, Google Optimize…
Use heat maps.
Perform tests.
Get your visitors' opinion; ask them to help you identify what they expect to see on your website and observe the conversion path they take.
5 Enhance internal links with popular content
Once you have identified the landing pages (where people entered you website from a search or an ad campaign) and the exit pages (where people stopped interacting with your website), it is time to improve the internal linking and general optimization of your website on the page.
This is essential because, when you implement the right optimization tactics on the website, you can increase your search traffic and improve your ranking, which will prevent your pages from leaking.
If your homepage receives more traffic, the ideal thing is to link some of your internal pages to it. Thus, when a trusted link to the homepage is made, some of the link's content or value is transferred to the internal pages.
[caption id="" align="aligncenter" width="351"]
Neil Patel[/caption]
There is a report on Google Analytics that will show us the internal pages to which we can redirect value content:
Conversions > Reverse goal path
Next, select the main goal you would like to see and analyze (I have selected entered checkout). You will see the previous pages with which the website's visitors interacted before reaching this goal on your site. This is the page on which they spent more time interacting before the conversion.
From the information obtained from Google Analytics, we understand that these pages are converting most of the visitors to your website. Now, the next step is to channel all this traffic to the right pages.
As a general rule, every time you publish new content, link those of your pages that have better rankings so that visitors can find them easily. Search engine crawlers also follow those page links.
And, more importantly, Moz conducted a study and found that links on new pages and websites carry 'link juice', one of the positioning factors that Google likes best.
Conclusions
When taking the first steps to improve your traffic and ranking, start with these 5 tips. On the second part of this post we will see the other five. I hope you they work for you!
"Dreaming is cheap; doing a good job is what brings results…"
Comments are moderated and will only be visible if they add to the discussion in a constructive way. If you disagree with a point, please, be polite.
Subscribe