Ever since I started working, one of the things that have always caught my attention is the workspaces, especially those intended for collaborative work. I think that we do not attach enough importance to them and that they are an obvious catalyst for change.
Today we are slowly doing away with office models such as "Action Office" and "Open plan," which became popular during the 20th century and the beginning of the 21st.
Companies that need 'teams working together' nowadays go for a mix of open floor plan and a certain customizable space for teams. In order to do so, they use diverse techniques. Let us see some of them.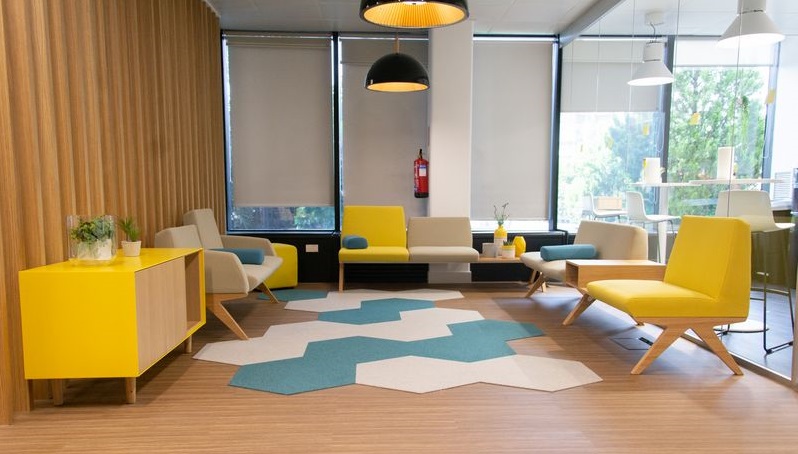 One of the most typical options is to use dividers to improve acoustics by dampening noise. Another one is to break up the space in a friendly manner using glass partitions decorated with vinyl stickers.
Both techniques have several things in common: They are light (they do not enclose the teams, creating small offices for a department), there is hardly any light lost (which is essential for having a good work atmosphere) and they distribute places in a very versatile manner. Thus, we capitalize on both concepts – open and closed.
This way we can create a shared space for groups of 6 to 12 people who work together, and we can gain a lot as far as concentration, quality and efficiency are concerned.
However, what should we look for in order to have a nice, highly productive environment? When I get this question from the companies with which we work in digital transformation processes, I tell them this: "Working differently requires different spaces."
What should we aim for in these new spaces?
Light: At all levels. If possible, it should be natural light, complemented by the furniture and walls.
A space that can be customized for teamwork. If you want a group of people to truly work 'as a team', you need them to sit together, to make it easier for them to talk to each other, and to tailor their space in order to turn the place you have assigned them into their tribal settlement.
To encourage the creative, mentally challenging work that most professions demand nowadays (because manual labour is increasingly being done by machines), we need walls on which to draw things, share things, collaborate…
I recommend providing teams with at least three spaces: A space for the team (with its own rules, reminders, particularities), another one for displaying the work that has been done or that is going to be done, and a third one for collaborating in improvised meetings with graphic facilities.
Meeting rooms that facilitate collaboration. Meeting rooms in offices need to be spacious. Why? Because they must have a blackboard or wall on which to write, draw or whatever. In addition, an alternative for team dynamics to work better is to replace chairs with high stools.
These rooms will be just another place for collaboration, so people need to be able move around easily in them – meetings where everybody is sat in front of their laptops, where one person speaks and the rest listen to them (or get bored), are doomed to extinction.
Of course, a good Internet connection and a phone are a must these days for these rooms. Fluid communication – not only with the people in the room – in these times when telecommuting and globality proliferate is essential.
A proper arrangement of the elements helps to convey the company's values by means of small gestures. For instance, the type and placement of the tables. Preference will be given to round or square tables that leave room to move about, not rectangular or oval-shaped tables, since in some companies they usually reflect non-explicit hierarchies or the leadership of the ends over the rest of the table during meetings.
Spaces must be created for specific tasks: Phone calls (which are very bothersome if answered on the spot), improvised meetings without previously having booked a room (or even standing or around tall tables), high-concentration workspaces for people who are being constantly interrupted, spaces for workers to play and rest, or places for new ways of working using ideation, inspiration or fast prototyping techniques.
These workspaces and a suitable methodology should in turn contribute to save time, thus helping to do away with many meetings.
Another trend is to not assign workplaces: The first one to arrive seats themselves wherever they like. This means that some will arrive at the office and spend some time looking for a place that is not too far away from the people they usually work with. If this happens, this measure ceases to be effective. Furthermore, it makes customizing the workspace more difficult and, hence, leads to people being less comfortable.
The place where our office is sited is also important. A rising trend is to mix workplaces with other kinds of spaces, such as shops, gyms and even nursery schools. The aim is to make workers' life easier, and combined with flexible working hours, they help them to strike a good work-life balance.
In addition, large companies are again opting to return to city centres, i.e. to well connected urban locations. This is another way of trying to help workers, but, of course, you cannot please everybody.
In this sense, I must say that Paradigma has taken good note of these things. When you enter the building, you feel something is different. Not only does it fulfil all the above requirements but it also has a colour and atmosphere that cheers you up upon arrival.
[caption id="" align="aligncenter" width="800"]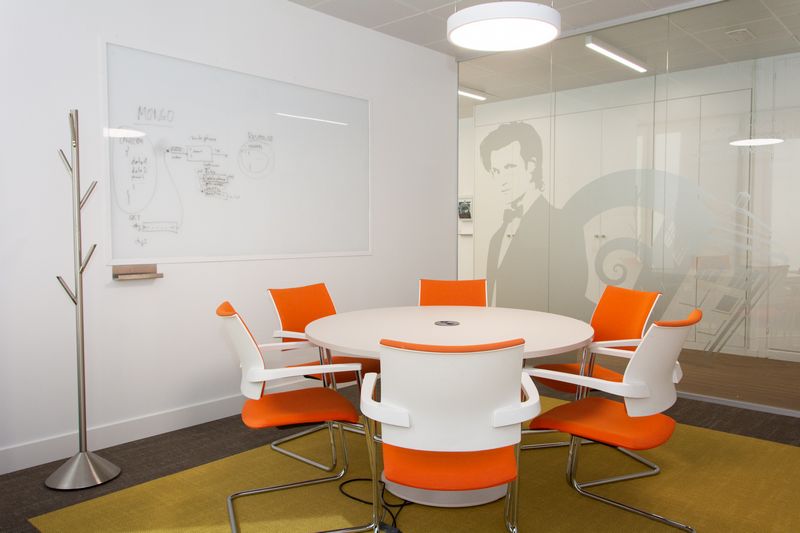 One of Paradigma's meeting rooms[/caption]
[caption id="" align="aligncenter" width="800"]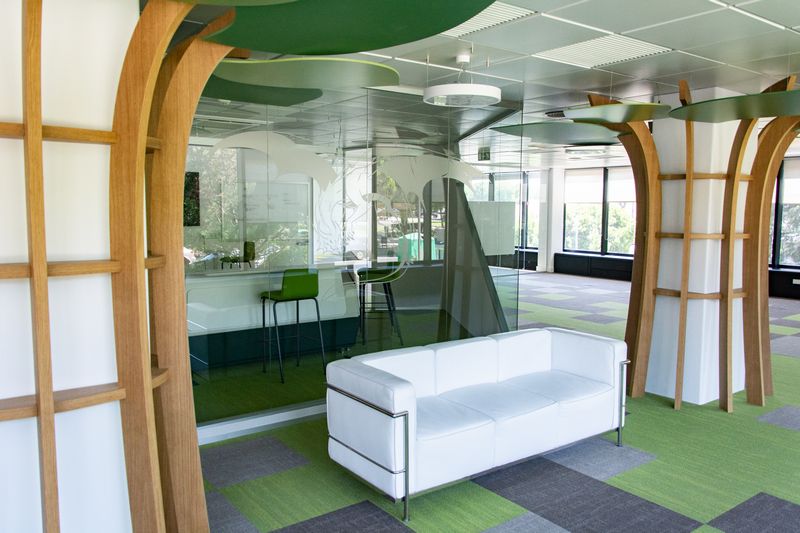 Open space at Paradigma's offices[/caption]
[caption id="" align="aligncenter" width="800"]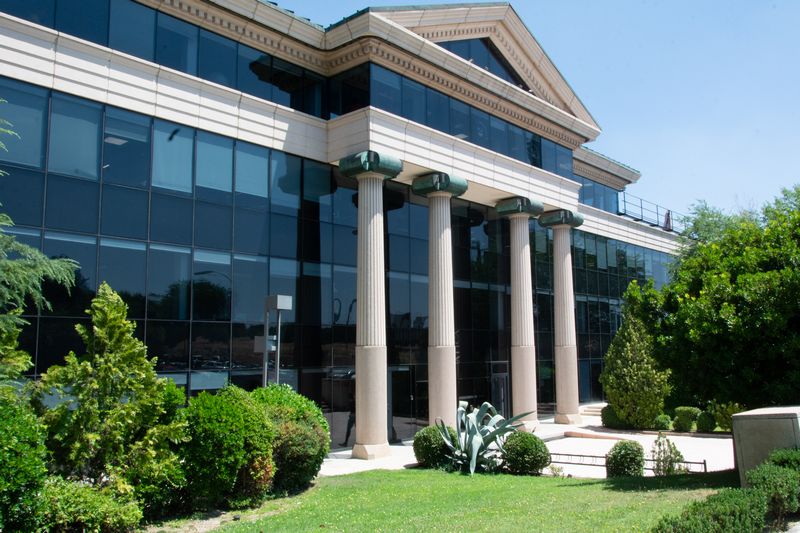 The outside of Paradigma's offices[/caption]
In short, the debate between open spaces and closed spaces is something of the past. The actual current challenge is to design spaces that are right for the particularities of the different types of work we do.
For every need that arises, we might have to design a special space. This does not have to be an expense but an investment, since it will drive up the teams' efficiency and the quality of the products we make.
This will make workers happy in their job, and this is very important because happy workers surely do higher quality work. And the greatest asset your company has is your own employees.
Comments are moderated and will only be visible if they add to the discussion in a constructive way. If you disagree with a point, please, be polite.
Subscribe